Finding the best eSIM for Norway is easy: Orange eSIM Holidays has everything you'll need for your next holiday in Norway. With 25GB of data for €25 with 15 days validity, tethering, and a Spanish phone number with 100 minutes of international voice calls and SMS for an extra credit, you'll get the best advantages of an eSIM for travelers with the cheapest price per GB. In the following post we've compared the most popular eSIMs for Norway, and the results are beyond doubt: Orange eSIM Holidays offers the best deal to avoid roaming in Norway in 2023.
Norway, the land of the Fjords, Vikings, northern lights… with its amazing landscapes, quaint towns, and its iconic natural wonders, is one of the most visited countries in northern Europe.
Experience cities like Oslo, Tromso, Bergen or Trondheim, drive the Atlanterhavsveien or Trollstigen, enjoy the Lofoten Islands, or Vesterålen, or, of course join a large list of visitors that have hiked to Trolltunga or to Preikestolen (Pulpit Rock) to take an iconic photo of these natural wonders. And no doubt, taking a cruise to visit the beautiful and breathtaking Norwegian fjords (don't forget to visit the Geirangerfjord) is an essential experience for anyone traveling to Norway.
Enjoy taveling to Norway without wasting money on roaming costs and buy the best eSIM for you holiday. Check our list with the best eSIM deals for Norway in 2023.
The best eSIM deals for Norway in 2023
Carrier
Data
Price
€/GB
Validity
Extras
🏆Orange eSIM Holidays
25GB
€25
1 €/GB
15 days
Orange, phone number and 100 minutes of international voice calls and SMS (extra credit), Id required, tethering allowed, EU + Liechtenstein + Norway
Airalo Lofotel
2GB
20GB
($7) €6.63
($32) €30.32
3.3 €/GB
1.51 €/GB
15 days
30 days
Telenor 4G network, data only, tethering allowed, Norway
Nomad
20GB
€33.00
1.65 €/GB
30 days
Truphone network, data only, tethering allowed, Norway
Bnesim
20GB
5 GB daily
€51.00
€9.52 per day
2.55 €/GB
1.904 €/GB daily
No expiration
Daily renewal
Telenor network, data only, tethering allowed, monthly renewal plans available, Norway
Holafly
Unlimited
€47.00
N/A
15 days
Telenor 4G network, data only, fair usage, no tethering, Norway
*Data collected in 2023
Orange eSIM Holidays: The best deal
1 €/GB
Orange eSIM Holidays is not only the best eSIM for Norway, but the best eSIM for Europe. Its price per GB makes it the cheapest card you can find for a travel eSIM, and it comes with a Spanish phone number and 100 minutes of international voice calls and SMS for a credit. This eSIM provides 25GB of data for €25 with a validity of 15 days. Orange eSIM Holidays provides everything you need to stay connected in Norway without worrying about roaming expenses.
EU coverage
By providing a Spanish phone number, it also gains a huge advantage over the competition. It turns into a regional eSIM, because you'll be able to use its features anywhere in the European Union, Norway and Liechtenstein.
To comply with Spanish law, you'll need to provide an ID to complete its verification process, but you can do it directly while purchasing the eSIM online, without queues or waiting periods.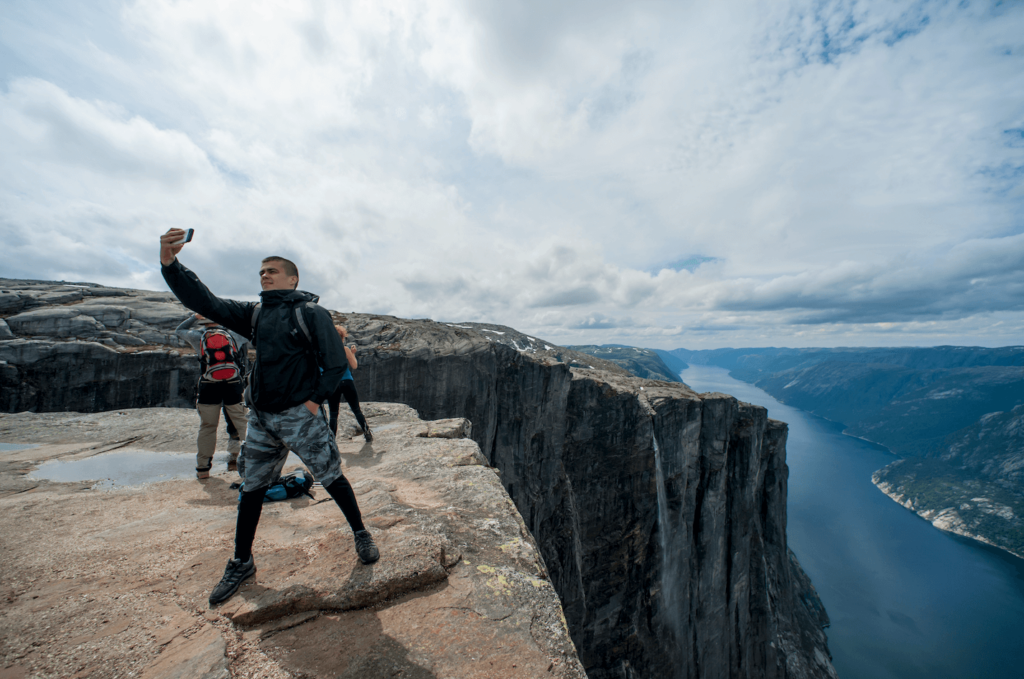 Airalo Lofotel
Budget eSIM
Airalo Lofotel offers one budget eSIM for 15 days with its 2GB card for €6.63. With that amount of data for that validity, you'll most probably end up topping up your data allowance, and, given that, its price per GB is 3.3 €/GB you'll be paying a lot more for something you could get way cheaper with Orange eSIM Holidays.
Less data and higher price
Airalo's best eSIM is its Lofotel card with 20GB of data for 32 usd (around €30) valid for 30 days. Compared with Orange eSIM Holidays, it offers less data for a higher price, and it is only a data plan with local coverage in Norway.
Nomad
Expensive card
Nomad's best plan comes with an expensive card offering 20GB for €33 for 30 days. This means its price per GB is 2.65 €/GB, which, compared with Orange eSIM Holidays' 1 €/GB is quite expensive. Nomad offers its own network, Truphone, which connects to a roaming partner in each of the destinations of Nomad's cards.
Longer validity
Nomad's plan is valid for 30 days, which in this case can be an advantage and a disadvantage: You'll be covered for a longer period, but you'll also need to stretch your data usage for a longer time. 2 Nomad cards cost €66 and provide 40GB of data, 2 Orange eSIM Holidays cards cost €50 and provide 50GB of data.
Bnesim
20GB with no expiration
Bnesim has a large range of eSIMs, from one-time cards to daily and monthly subscription plans. Among its one-time cards, the best offer is its 20GB card for an abusive price of €51. It is way too high, and the only advantage you get for this price is that it doesn't have a validity period. Bnesim's one time cards don't expire. This means that you'll be able to use the data you've bought until it's finished. It doesn't matter if you leave Norway and come back in a few days or months. As long as you have remaining GB on your card, you can still use it.
The only thing you need to do is keeping your profile active. This means that you'll have to renew your data (top up) every 6 months, but the remaining data will roll over.
Daily renewal plan
Bnesim's other interesting offer for a holiday in Norway is its 5GB daily plan. For €9.52 € daily you'll get 5GB of data to use every day. This means that you'll be paying 1.903 €/GB each day that this plan is active.
Holafly
Expensive unlimited plan
Holafly offers an unlimited eSIM for the high price of €47 with a validity of 15 days. It is a data only card limited to Norway. To take full advantage of Holafly's eSIM, you must carefully analyze your data usage during the validity period, so it is best suited for those who don't want to be bothered by data limitations and don't care about how much they want to spend on their data needs.
No hotspot/tethering
The reason we think Holafly is the worst eSIM to travel to Norway is because it doesn't allow tethering. You'll have to use all your unlimited data allowance on the device you've installed the eSIM, so no sharing the connection with your travel companions, or with any other of your devices.
Buying a travel eSIM for Norway
As soon as you've found your favorite eSIM to travel to Norway, you just need to go to its website and buy it. After payment, you'll receive an email with a QR code and a guide on how to activate it. Simply scan the QR code and follow these instructions.
The greatness of this process is that you won't need to deal with the language barrier when you negotiate your card with a local seller and you won't need to wait a few days until you receive the SIM card in your mail. You'll receive your eSIM immediately.
Regional eSIMs: Europe
If you're traveling to Norway, but you think you'll be visiting other neighboring countries in Europe, you should think about your data needs in those other destinations. Airalo offers regional eSIMs in Europe with its Eurolink plans.
Airhub, Yesim, Mogo…there are many other companies with Europe eSIM plans, but remember that Orange eSIM Holidays offers coverage in EU countries, Norway and Liechtenstein, so if your other destinations are covered by it, this eSIM offers the best price per GB and the best features for those other countries.
Orange eSIM Holidays is, therefore, the best regional eSIM for Europe.
eSIM compatibility analyzed
One big drawback eSIMs have is that you won't be able to use it on all the devices available in the market. Only certain devices support this technology, and as a matter of fact, some eSIMs are only compatible with certain devices, so you're best option to know if you can install an eSIM on your device is to check the eSIM compatibility list of the eSIM card you want to get.
As a general rule, Apple mobile phones like the iPhone 11, iPhone 12, iPhone 13… and Samsung smartphones like the Galaxy s20 (and later models) can use eSIMs. Google phones like the Pixel 4, and maybe previous models like the Pixel 2 XL or the 3 XL are also eSIM compatible. Other mobile phone brands have some high-end models with this technology, but as we said, you should check the eSIM carrier list, and if you're still not sure, check with your mobile phone manufacturer or your home carrier.
Network coverage in Norway
Norway's mobile network market is controlled by three companies: Ice, Telenor and Telia. With the three of them offering excellent coverage, Telenor is the company with the best service overall of the three network carriers. However, Telenor offers the fastest download and upload speeds and excellent consistency for its customers.
With so many places to visit around Norway, you should check if your network service provider offers coverage in the region you want to visit. You can check it here.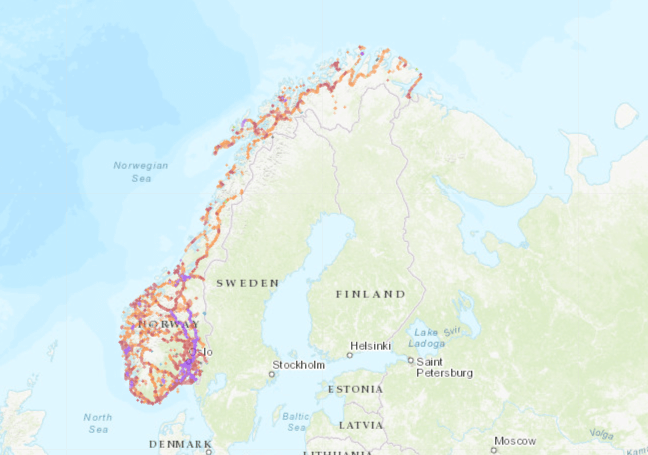 Get the best eSIM for Norway
FAQ about Norway eSIM
Which eSIM card is the best to travel to Norway?
We can safely say that Orange eSIM Holidays is the best eSIM to travel to Norway. With its amazing price per GB of €1, 25GB of data and its unique features, with Orange eSIM Holidays you'll be able to fully enjoy your holiday in Norway without worrying about roaming costs.
Can I buy an eSIM from another country?
You can buy an eSIM from anywhere in the world. All you need to do is access the eSIM carrier's website and purchase the eSIM you prefer. You can do this even from your own home so you can have your eSIM ready to activate as soon as you reach your destination.
What's the disadvantage of an eSIM?
In addition to the lack of availability depending on your device, you won't be able to change the device on which the eSIM is installed, like you can do with physical SIM cards.
If, for whatever reason, you want to move your eSIM to a new device, you'll need to contact the eSIM carrier to switch the eSIM profile.
How do I choose the best travel eSIM?
Choosing the best eSIM is a matter of your data needs, the features and, of course, the price. Before you purchase an eSIM to visit Norway, you should analyze how many GB you will need for the amount of days you're going to stay in the country, then see if you're going to need a mobile phone number or anything extra other than data, and prepare a budget with how much you want to spend on an eSIM.