Stop searching for the best eSIM for Slovakia! With Orange eSIM Holidays we bring you the best card for travelers in 2023. With 25GB of data for an incredible price of €25 and a Spanish phone number with 100 minutes of international voice calls, you'll have all your data needs covered for 15 days in Slovakia. It's the best deal.
Located in the heart of Europe, Slovakia is a dreamed destination for history buffs, outdoor lovers and foodies. Once a part of Czechoslovakia, this country has experienced the major events of recent and not-so-recent history, and they've kept vestiges of these moments.
With over 100 fairy-tale castles, like the Bojnice castle, the Orava castle or Devin castle, you'll be transported to Romanesque and gothic constructions, in which (at least in some of them) you can even spend a night.
If you like nature and incredible landscapes, you can go skiing in the Tatras, discover the natural wonders of the Slovak Paradise, or explore the Dobšinská Ice Cave. And there's no better way of experiencing a country than walking its streets, so don't forget to get lost in Bratislava, where its art and its palaces offer visitors from all over the world incredible sights of this lively city.
If you have a few extra days on your trip, go visit the traditional folk architecture of the open-air exhibition in the Museum of Slovak Village, or take a detour to the medieval town of Banská Štiavnica. Another interesting visit would be the 1930s abandoned bunkers, scattered around Slovakia's countryside or even inside its cities.
Throughout your stay you'll be able to taste the mouthwatering delicacies offered by the Slovakian cuisine, with examples like the Bryndzové halušky or the Lokše (Potato dumplings with cheese and potato pancackes) or the multiple soups and stews typical of the gastronomy of central Europe. And for dessert, don't leave Slovakia without trying a traditional Trdelník, a kind of grilled dough dessert topped with walnut and sugar.
Don't let a high phone bill make your trip a bitter experience. Get yourself the best eSIM plan for travelers to Slovakia in 2023 and avoid roaming costs while enjoying this unique country.
The best eSIM plans for Slovakia in 2023
| | | | | | |
| --- | --- | --- | --- | --- | --- |
| Carrier | Data | Price | €/GB | Validity | Features |
| 🏆Orange eSIM Holidays | 25GB | €25 | 1 €/GB | 15 days | Orange, phone number and 100 minutes of international voice calls and SMS (extra credit), ID verification, tethering allowed, EU + Liechtenstein + Norway |
| Airalo – Dobrý deň! | 10GB | ($22) €20.70 | 2.07 €/GB | 30 days | O2 LTE, data only, tethering allowed, Slovakia |
| Nomad | 10GB | €23.5 | 2.35 €/GB | 30 days | Orange/Others, data only, tethering allowed, Slovakia |
| Bnesim One time | 20GB | €59.80 | 2.99 €/GB | No expiration | O2/Orange, data only, tethering allowed, Slovakia. Subscription plans available. |
| Holafly | Unlimited | €47.00 | N/A | 15 days | Orange Slovensko (DT) 3G, data only, no tethering, Slovakia |
Orange eSIM Holidays: The best value for money
The best eSIM for travelers
Orange eSIM Holidays offers the best prepaid eSIM to travel to Slovakia in 2023. It provides 25GB of data for an incredible price of €25, plus a Spanish phone number with 100 minutes of international voice calls and SMS for an extra credit. You'll be able to use its data for 1€/GB for 15 days. There isn't a better offer on the market.
Coverage in the EU, Norway and Lichtenstein
To make this offer even better, since Orange eSIM Holidays provides a Spanish phone number, you'll receive coverage in the 27 countries of the European Union, Norway and Liechtenstein, and all you'll need is to provide your passport or your ID during the purchase process (Spanish law requirement).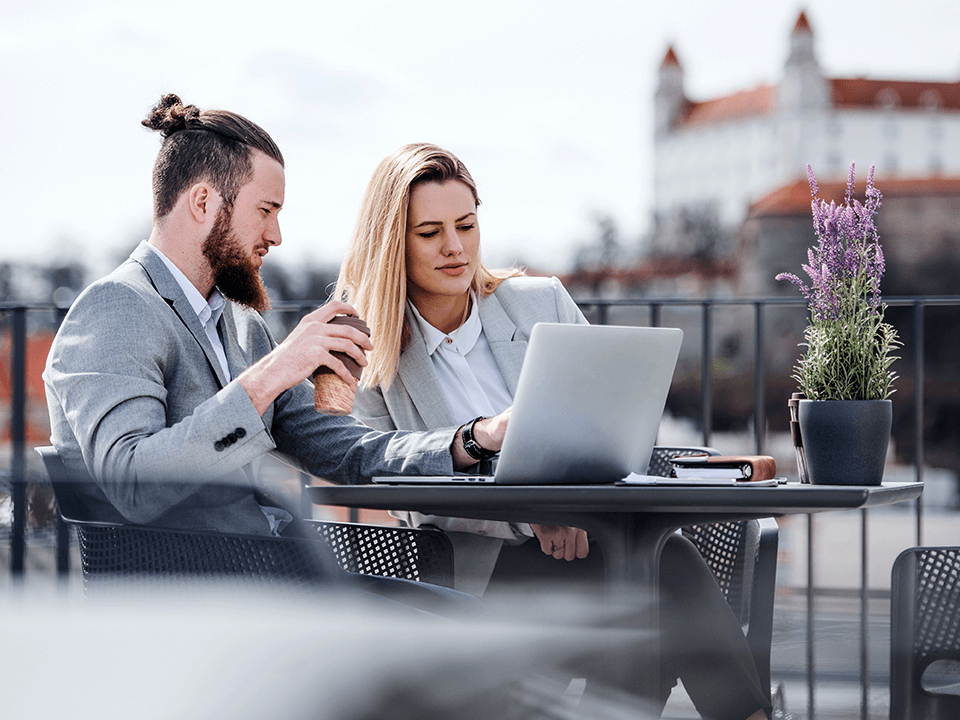 Airalo – Dobrý deň!
Small data
Airalo offers its Dobrý deň! plan in Slovakia. Its best offer comes with 10GB of data to use over a period of 30 days. It includes 4G connection with O2 LTE, tethering and coverage only within Slovakia.
Good price
With a good price of €20.70 (€2.07 per GB), it is twice as expensive as Orange eSIM Holidays, because while as a direct payment it seems cheaper, you'll most probably need to top up your data (10GB isn't that much for 30 days), and you'll end up paying €40 for what could have been €25 with 5GB of data more than what you'll be getting, if you'd bought Orange eSIM Holidays.
Nomad
10GB of data
Nomad's best card for Slovakia, offers 10GB for 30 days (like Airalo) with a price of €23. It is more expensive than Airalo Dobrý deň!, and, therefore, even more expensive than Orange eSIM Holidays with a fraction of its data allowance.
Local eSIM
The fact that it is a local eSIM makes it even less attractive than our previous cards, with coverage limited only to Slovakia. Do I need to say more?
Bnesim One Time
Expensive One-Time card
Bnesim has a wide range of offers for Slovakia, but their best one without a daily or a monthly payment is its 20GB data card, with an abusive price of €59.80. For more than twice the price of Orange eSIM Holidays cards, you'll get less data (5GB) and no extra features. While Bnesim also has several cards with a subscription model (daily and monthly renewal plans) their price isn't better than our first choice, and, since they are not what one could consider a prepaid card, we won't waste your time going through them.
No expiration
However, Bnesim's One-Time cards offer one great advantage. They have a no expiration policy. This means that you'll get to use your card until it runs out of data. No matter how many days you'll be staying in Slovakia.
Holafly
Costly unlimited data
We've reached our last pick. Holafly offers several unlimited plans in Slovakia, but for a price. For the same validity as Orange eSIM Holidays (15 days), it costs €47, which is quite expensive, even for unlimited GB.
The worst eSIM card
However, the real reason we find Holafly's cards the worse ones of our list, is for two main facts: using Orange's network, it only provides 3G coverage (slower than the competition) and, what's more important, it won't allow you to share your data with someone traveling with you, not even with any other of your devices. We consider its no tethering policy as the main disadvantage of Holafly's unlimited eSIM cards.
Regional eSIM plans for Europe
There are several carriers that offer regional eSIMs for Europe. Airalo (Eurolink cards), Ubigi, Maya, MobiMatter…all of them have eSIMs to use in several countries of Europe, with different validities, and more expensive than their local eSIMs, but you can use them no matter the country you are within Europe. These are great options if you plan to visit several other destinations outside of Slovakia, but none of them can compete with Orange eSIM Holiday's price and since it can also be used in all EU countries plus Norway and Liechtenstein, it counts as a regional eSIM.
An analysis of Slovakia's mobile network
Slovakia's mobile network market is managed by 4 companies: 4ka, O2, Orange and Slovak Telekom. From these 4 companies, O2, Orange and Slovak Telekom offer a great 4G coverage experience, with Orange winning the availability contest. However, the carrier with the best download and upload speeds is Slovak Telekom, with Orange sharing the top spot in the download section.
If you need to see in detail how the cell coverage is in a specific region within Slovakia, you can check the map on this website and select your carrier.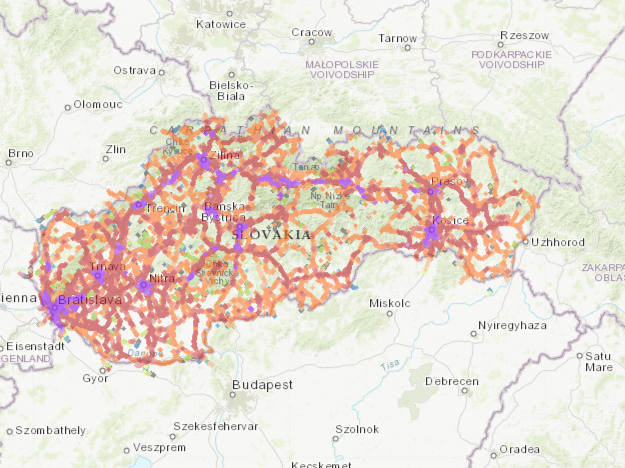 How can I get an eSIM card for Slovakia?
If you want to buy an eSIM for Slovakia, you won't need to get to a store, or to deal with a local vendor. Simply go to the carrier's website and purchase your plan. You'll receive an email with a QR code and instructions on how to activate your eSIM: You'll then need to scan the QR code and, depending on your mobile, proceed with the activation.
It's an almost immediate process, that shouldn't take longer than a few minutes. After that, you'll be able to enjoy your eSIM plan in Slovakia.
Is my device eSIM compatible?
A big issue that might happen when using an eSIM is that not all eSIMs are compatible with every mobile phone in the market. In fact, some eSIMs are only compatible with a limited number of devices, so your safest option to know if you'll be able to use an eSIM on your mobile phone is to check the device compatibility list that each eSIM carrier provides on their website.
Broadly speaking, current Apple devices (since 2019), Samsung phones like the Galaxy S20 or some high-end Google phones (Pixel 2XL, 3XL, Pixel 4…) are eSIM compatible. Other brands like Huaweii, Xiaomi, Rakuten, Oppo or Motorola also offer devices with eSIMs, but if you're not entirely sure, do as we said, and check the compatibility list.
Get the best eSIM for Slovakia
FAQ about Slovakia eSIM
Which is the best eSIM for Slovakia?
If you want to get the best eSIM for a Slovakia, Orange eSIM Holidays is your best option. With 25GB of data for €25 with 15 days of validity, you'll also get a Spanish phone number and 100 minutes of international voice calls. There's no better card to use in Slovakia, but, as an added advantage, you can use this eSIM in all countries of the European Union, Norway and Liechtenstein.
When should I activate my eSIM?
It is always best if you activate your travel eSIM as soon as you reach the destination. Otherwise, you can find some activation issues that may hinder the way the eSIM works. However, you can buy an eSIM from anywhere in the world, simply access the website of the eSIM carrier and purchase it.
Can I get a local eSIM for Slovakia?
Currently, all 4 Slovakian operators offer eSIMs for its customers. You can get their eSIMs with any of their usual plans for prepaid customers with SIM cards. While offering great price (like it happens with every local SIM carrier) their main disadvantage versus travel eSIMs is that you won't be able to create an account without presenting an ID in a local vendor, so you'll have to waste some time from your holidays going to a store and purchasing a plan. Travel eSIMs are simpler to get, and with Orange eSIM Holidays' price, local plans aren't that much greater. 
Can I use a travel eSIM and my SIM card at the same time?
Yes. It is one of the major advantages of eSIMs. Since they don't need a SIM tray to operate, you'll be able to keep your home carrier's SIM card active while you use a travel eSIM for your data needs. This also means that you will be able to keep using your usual social media profiles linked to your mobile phone's SIM card active, while using the data on your eSIM. Simply disable data roaming for your SIM card profile and activate it on your eSIM one.