If you're planning to visit the Baltic States, you'll definitely need the best eSIM for Lithuania. Thankfully, we've analyzed the market for you and reached one conclusion: Orange eSIM Holidays is the best eSIM plan to travel to Lithuania. With its 25GB of data for €25 with 15 days of validity, your data needs will be completely covered with this eSIM, and you'll be saving a lot of money on roaming costs. It is the card with the cheapest price per GB, and, as the icing of the cake, you'll get a Spanish phone number and 100 minutes of international voice calls to use anywhere in the European Union, Norway and Lichtenstein. You won't find a better offer.
Get ready for Lithuania's beautiful towns and cities like Vilnius with its Old Town, Trakai or Kaunas, its breathtaking natural wonders like the Curonian Spit or the Aukstaitija National Park, or its astonishing castles and cathedrals, like the Trakai Island Castle or St. Anne's Church.
If there's one thing you shouldn't do when traveling to Lithuania, is wasting money on your phone's internet. Buy the best eSIM plan for travelers in 2023 and enjoy a trip with no roaming costs in Lithuania.
The 6 best plans for travelers to Lithuania in 2023
In the following chart, we bring you our top 6 eSIMs for Lithuania in 2023:
Carrier
Data
Price
€/GB
Validity
Features
🏆 Orange eSIM Holidays
25GB
€25
1 €/GB
15 days
Orange, 100 Minutes
International
Voice Calls, SMS for
a credit, ID verification, tethering allowed, EU
Airalo Lila Mobile
10GB
(14 usd) €13.13
1.31 €/GB
30 days
Bite 4G, data only, tethering allowed, Lithuania, Europe plans with Eurolink
Maya
10GB
Unlimited*
€18.97
€46.48*
1.89 €/GB
N/A
30 days
Monthly*
Tele2 4G/LTE, data only, tethering allowed, Lithuania, (Europe eSIMs available), *30GB at 5Mbps & 1Mbps after that
Nomad
10GB
€24.00
2.40 €/GB
30 days
Orange/truphone/others 4G, data only, tethering allowed, Lithuania
Yesim
10GB
*Unlimited
€25.00
€37.50
2.5 €/GB
N/A
10 days
15 days
Bite, data only, tethering allowed, Lithuania, *1GB daily & 256 Kbps after that
Holafly
Unlimited
€47.00
N/A
15 days
Bite 4G, data only, no tethering, *Fair Usage policy, Lithuania
*Data collected in 2023
Orange eSIM Holidays: The best eSIM
Unbeatable price
Orange eSIM Holidays is, without a doubt, the best eSIM you can buy to travel to Lithuania. With 25GB for an unbeatable price of €25 (1 €/GB), you'll get 15 days with a Spanish phone number, 100 minutes of international voice calls and SMS for an additional credit. All it requires is for you to provide an ID, which can be done directly when purchasing the card.
Regional coverage
To further confirm that it is the best card, Orange eSIM Holidays also offers an incredible coverage in Europe (EU countries, Norway and Liechtenstein) turning it into a regional eSIM. Buying Orange eSIM Holidays is your best option if you're traveling to Lithuania, but also if you want to visit other countries in Europe.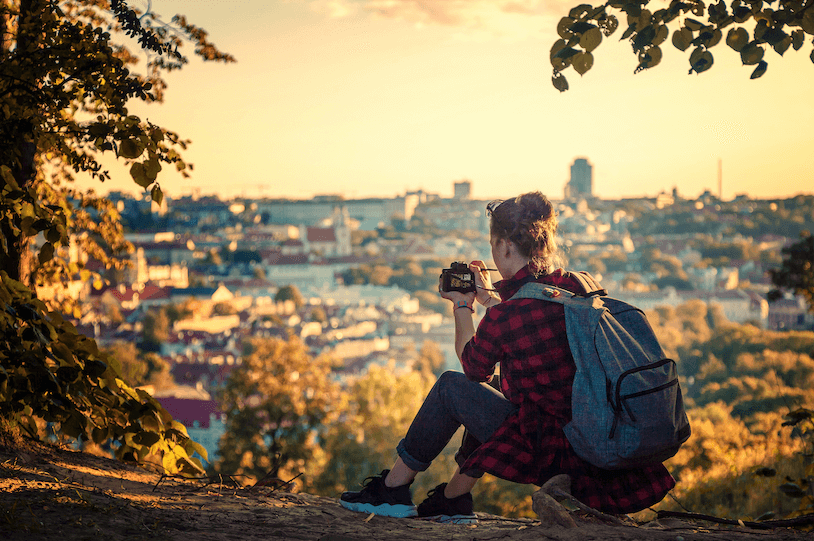 Airalo Lila mobile
Small data package
Airalo Lila mobile offers a small data package of 10GB for an interesting price of 14 usd, which, at the time of writing this post, is about €13. For this price you'll receive 30 days of only data, with 4G connection to Bite mobile. Airalo's Lila mobile plan is interesting if you're traveling on a budget, but, with its price per GB of 1.31 €/GB, it ends up being more expensive than Orange eSIM Holidays: for the price of 2 Lila mobile eSIMs, you can get 25GB of data and international voice calls.
Eurolink cards
Airalo also offers regional eSIMs for Europe with its Eurolink cards. With its best offer of 100GB for 180 days, you'll still be paying 1.85 €/GB, so Orange eSIM Holidays, since it offers coverage in Europe too, is still cheaper than Airalo.
Maya
10GB of data
Maya offers 10GB of data for €18.97. It is quite an expensive plan just for Lithuania and only providing data.
Unlimited monthly plans
Maya's advantage resides in its unlimited eSIMs. It has 2 cards with unlimited data, one only for Lithuania and another for Europe. Both these eSIMs are quite expensive, and while they advertise them as unlimited, in reality they offer 30GB at 5Mbps, and, when you've reached the data allowance, you'll get 1Mbps. The price for these cards is €47, so, if you're traveling to Lithuania, you'll get a better offer with Orange eSIM Holidays, since for nearly half the price you'll get more or less the same data at high speed.
Nomad
Expensive price per GB
Nomad offers a card with 10GB of data, but in Nomad's case, its price per GB is €2.40. It is way too high for a data only plan.
30 days validity
Nomad's plan has a validity of 30 days, so if you want to make the most of this eSIM, you'll need to control your data usage to stretch your plan for the full validity. With Orange eSIM Holidays you'll be paying almost the same price, and you'll receive 25GB.
Yesim
10 days validity
Yesim enters this analysis of the best plans for Lithuania with a 10GB card for €25 which is valid only for 10 days. Once again, Orange eSIM Holidays offers for the same price 25GB, a Spanish phone number to use while in Europe, 100 minutes of international voice calls and, to top it off, 15 days of validity.
Daily allowance plan
The really interesting offer by Yesim would be its "unlimited" plan for €37.50. In this case, it comes with a validity of 15 days.
It sounds great, right?
It has a catch. Yesim's "unlimited" plan offers 1GB of data daily at max speed, and a connection of 256 Kbps once you've reached the daily allowance. Nowadays 256 Kbps isn't enough for almost anything, and this daily allowance doesn't roll over to the next day. In reality, what Yesim offers is 1 GB of data daily, for 15 days, so 15 GB, for a price of €37.50.
Holafly
Expensive unlimited plan
Holafly's plan is the real "unlimited" one (well, it has a warning that the carrier might use "fair usage policy", so you might get throttled down after certain data usage). But it comes with a price: €47 for 15 days of data. To make the most of Holafly's eSIMs, you should carefully analyze how many GB you're going to use while in Lithuania.
It is a plan for those who aren't worried about their budget and don't want to deal with data limitations.
No tethering
The real reason why Holafly is at the bottom of our list is because it doesn't allow tethering. With this card, you won't be able to share your data with anyone, or with any other device you've brought with you on your trip. You can forget about connecting your laptop to stream anything, or to work remotely. You can only use your data on the device you've installed your eSIM.
How to buy an eSIM for Lithuania?
Once you've decided which eSIM you want to buy for your next trip to Lithuania, you'll need to access its website and proceed with the purchase. After payment, you'll receive an email with all the details of your newly acquired eSIM, a QR code and a set of instructions on how to activate it.
As simple and convenient as that. No need to wait to receive it in the mail (like physical SIMs), and of course no need to go to a store and deal with a local vendor. You can do this on your own home computer.
Lithuania's Network market overview
Lithuania's mobile network market is managed by three network carriers: Bite, Tele2 and Telia. While all of them offer more or less the same availability, Tele2 offers the best 4G experience to its customers, while Telia provides the fastest download and upload speeds.
With 33% of the country covered in forest areas, you might need to know if the region you're visiting has mobile coverage. You can check it in this link.
Can I use an eSIM on my mobile phone?
If you want to make sure that your mobile phone supports eSIMs, the simplest way is by checking the eSIM carrier's compatibility list. In it you'll find on which devices you can install its eSIM, and, since some eSIM carriers only offer support on certain devices, you'll be able to determine if that eSIM is compatible with your phone.
Another option is to ask your home carrier, or your device manufacturer.
If you have an iPhone 11 or a newer Apple model, a Galaxy s20 or a more current Samsung model, a Google Pixel 4 (and forward) or some high-end models like the Huaweii P40, Xiaomi 12T Pro or the Motorola Razr 5G (among some others), you'll probably be able to use an eSIM from most eSIM carriers.
Get the best eSIM for Lithuania
FAQ about Lithuania eSIM
Which eSIM is best for Lithuania?
Orange eSIM Holidays is the best eSIM you can buy to travel not only to Lithuania, but to most countries in Europe. Its 25GB of data and its incredible price per GB in addition to the features of this eSIM make it your best option to avoid roaming costs while visiting Lithuania.
Travel eSIM or SIM card, which one is better?
While physical SIM cards have their own advantages, if your device supports eSIMs, you should buy a travel eSIM for Lithuania. They are specifically designed for travelers, so their features are perfectly suited to avoid roaming costs while they provide an excellent service for anyone visiting another country.
Can I use my SIM card and the eSIM at the same time?
Yes, in fact, it is one of the great advantages of eSIMs. You can use your home carrier for voice calls and SMS while your travel eSIM will take care of your data needs. You just need to remember disabling data roaming on your home carrier SIM and activating it on your eSIM.
When should I activate my eSIM before departure or after landing?
If you want to avoid any possible activation issues with your eSIM, you should activate it as soon as you reach the destination covered by your eSIM card. Purchasing it, however, can be done from anywhere, even from the comfort of your own couch.