You don't need to keep searching for the best eSIM for Slovenia; we bring you Orange eSIM Holidays. Enjoy its 25GB of data for a bargain price of €25, make good use of its 100 minutes of international voice calls with a Spanish phone number (to use anywhere in Europe) and share your data with everyone you're traveling with, because at 1 €/GB it's a bargain.
Get ready for Slovenia's breathtaking landscapes, dramatic scenery and exciting outdoor activities. Slovenia is a young country, of about 30 years old. It was one the of the first countries to declare its independence from the Socialist Federal Republic of Yugoslavia in 1991, but its history dates back to the Roman Empire (and before).
Slovenia's beautiful lakes, like Lake Bled or Lake Bohinj, are just some examples of its natural wonders. Exploring the Soča River valley, hiking the Julian Alps and Triglav National Park, visiting Vintgar Gorge and Tolmin Gorge, or any of the multiple beautiful waterfalls and caves (Savica waterfall, Peričnik waterfall, Škocjan caves, the Postojna Cave) are just a few of the must-do activities for anyone visiting Slovenia, but don't forget that Slovenian cities and towns are also extremely beautiful. While falling in love with Ljubljana is unavoidable, there are other gems in Slovenia, like Piran, Koper or Maribor (to name a few).
Get ready to take a ton of photos and videos, and upload them to your social media without worrying about roaming expenses thanks to the best eSIM for Slovenia.
The best prepaid eSIMs for Slovenia in 2023
Carrier
Data
Price
Price/GB
Days
Features
🏆Orange eSIM Holidays
25GB
€25
1 €/GB
15 days
Orange, Spanish phone number and 100 minutes of international voice calls, ID verification, tethering allowed, Europe (EU27 + Norway and Liechtenstein)
Airalo Živjo
20GB
($46) €42.69
1.77 €/GB
30 days
Telemach 4G, data only, tethering allowed, Slovenia
Maya mobile
10GB
€18.52
1.85 €/GB
30 days
Telemach A1 4G/LTE, data only, tethering allowed, Slovenia, unlimited monthly plan up to 30GB
Bnesim One-Time
10GB
20GB
€38.70
€75.70
3.87 €/GB
3.78 €/GB
No expiration
Telemach/Telekom Slovenje, data only, tethering allowed, Slovenia, subscription plans available
Holafly
Unlimited
€47.00
N/A
15 days
Orange, 3G, data only, no tethering, Slovenia
Orange eSIM Holidays: The best prepaid eSIM in 2023
Lowest price per GB
Orange eSIM Holidays has the best prepaid eSIM for Slovenia: 25GB for €25 for 15 days. It comes with a Spanish phone number with which you can make up to 100 minutes of international voice calls and send SMS for an additional credit. The only requirement is that you provide an ID to verify your identity due to Spanish laws, but you can do it directly during the purchase process.
Regional coverage
As a bonus, Orange eSIM Holidays offers coverage in all 27 countries of the European Union, Norway and Liechtenstein, so you can plan to visit other parts of Europe too during your holiday.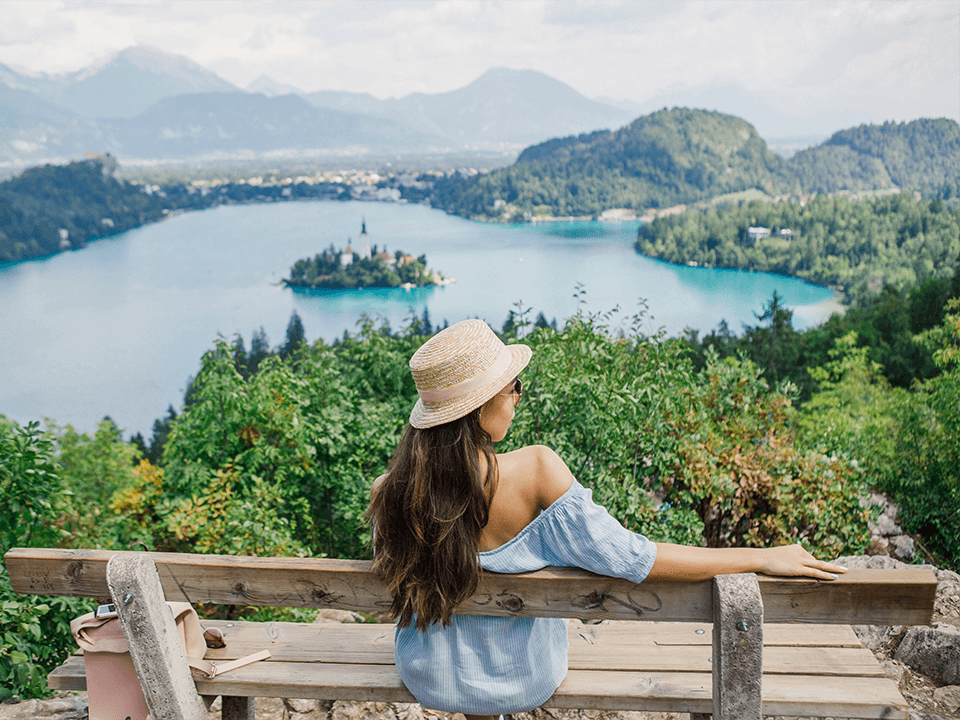 Airalo Živjo
Less data
For Slovenia, Airalo brings us its Živjo plans. The one with the best value is its 20GB data card for 46 usd (approximately €42), which is almost double the price of Orange eSIM Holidays with a fraction of its data to use for 30 days.
Higher price per GB
Whit this offer, Airalo's price per GB is 1,77 €/GB, which is quite more expensive than Orange eSIM Holidays' price, and it only provides data, and only within Slovenia. Orange eSIM Holidays is, without a doubt, a better prepaid card.
Maya mobile
A cheap option
Maya mobile offers a cheap option for Slovenia. With a card for €18.52, you'll receive 10GB of data with a validity of 30 days. It is a budget friendly option if you're not worried about how much data you want to consume.
With very little data
10GB is a very small data package for your holiday. You'll need to be really careful with how you connect to the internet, even using free local (and mostly unsafe) Wi-FI hotspots to be able to connect. The fact that it is valid for 30 days, means that you'll have to stretch your data allowance for a longer period, or top up your data, so you'll end up paying more than with Orange eSIM Holidays, for fewer data and limited coverage.
Bnesim One-Time
Unlimited validity
Bnesim offers several prepaid plans for Slovenia, with the most interesting ones being a 10GB card and 20GB card. All of Bnesims One-Time cards offer a great feature: They don't expire. You can use their data allowance until it runs out, no matter how many days it takes or if you leave the country and come back at a later time. They only require for you to keep your profile active, and you can do this by topping up your data every 6 months.
Higher price
The major drawback of these prepaid cards is their price. With €38.70 for its 10GB card, and €75.70 for its 20GB card, their prices are way more expensive than the competition, especially Orange eSIM Holidays. To put it in perspective, the cheapest price per GB they offer is 3.78 €/GB. It's just not worth it.
Holafly
Unlimited data
We've reached the bottom of our list: Holafly's eSIM cards. For an expensive price of €47, you'll get unlimited data in Slovenia. It's quite an expensive price even for unlimited data, but it is even worse since they offer only 3G connection, only data and only for Slovenia.
No tethering
But the real reason Holafly's eSIMs are at the bottom is because you can't use your mobile phone as a hotspot. This means that you can't use your phone as a tethering device to connect your laptop, your smartwatch or your tablet, and, of course, you can forget about sharing your data with anyone else. You'll be stuck with your data on your phone.
How to purchase an eSIM for Slovenia: Simply scan a QR code
Go to the carrier's website and buy the eSIM you want. You'll then receive a QR code and a series of instructions on how to activate it. With this QR code, you'll usually just need to scan it and you'll have your eSIM profile ready for activation. There's no need to go to a local store or to wait for it to arrive in your mail.
The convenience of buying an eSIM is one of its biggest appeals.
Make sure you can use an eSIM
eSIMs can only be used on a limited number of devices, i.e. those devices that include embedded SIMs in their hardware. Fortunately, the list of compatible devices keeps increasing, but to make sure that you'll be able to use an eSIM on your mobile phone, you should check the eSIM compatible devices list of the carrier you want to buy. This is even more important because some eSIMs are only supported on some devices. It doesn't matter if they are eSIM compatible or not.
Certain Apple models like the iPhone 11 (and newer models), Samsung phones like the Galaxy s20 (and newer models), Google phones like the Pixel 2XL (and some newer models) or high-end devices from Huaweii, Xiaomi, Oppo, Rakuten or Sony (to mention some), can use eSIMs, but if you want to be completely sure, either check the list, or contact your home carrier or your device manufacturer.
Mobile network carriers in Slovenia
There are 4 network carriers in Slovenia: A1, T-2, Telekom Slovenia and Telemach. The best 4G coverage experience in Slovenia is offered by Telekom Slovenia, but the best availability comes with Telemach. Regarding upload and download speeds, Telekom Slovenia offers the best experience, followed closely by A-1 and Telemach.
To specifically see the network coverage of a carrier in a region of Slovenia you should definitely check this website. In it you can select each Slovenian carrier and you'll get a map of its available coverage in Slovenia. It will help you plan ahead your trip to the country.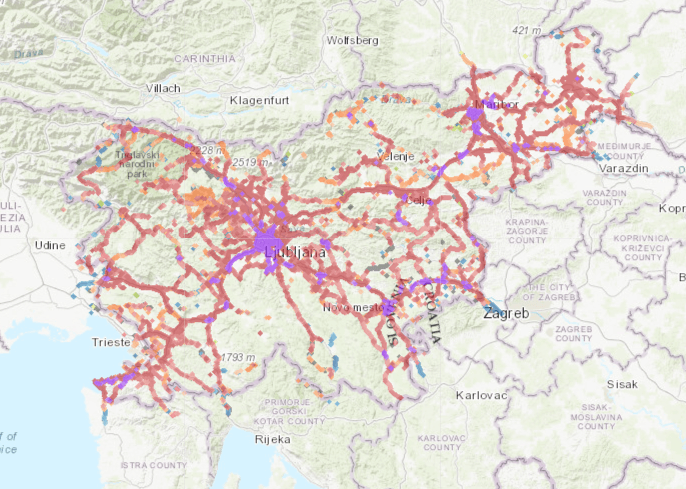 Comparing regional eSIMs for Europe and local eSIMs
While local eSIMs usually offer cheaper prices than their regional counterparts, regional eSIMs can help you change destinations easily if you're planning to visit other countries in Europe. Airhub, Ubigi, even Maya and Airalo (Eurolink) offer Europe eSIMs that include Slovenia among the countries covered at a good price, but, remember one of the most interesting features of Orange eSIM Holidays: you can use it anywhere in the 27 EU countries, Norway and Lichtenstein. Since Slovenia is surrounded by EU countries, you'll be able to move around without worrying about roaming costs.
In the end, with Orange eSIM Holidays you'll be paying the best local eSIM price, for what's, on every account, a regional eSIM for Europe.
Get the best eSIM for Slovenia
FAQ about Slovenia eSIM
Which is the best eSIM for Slovenia?
Orange eSIM Holidays is the best eSIM card, not only for Slovenia, but for Europe. Its price of €25 for 25GB of data and its incredible features place it at the top of our list of the best prepaid eSIMs for Slovenia. With 100 minutes of international voice calls and a Spanish phone number, you'll be able to stay in touch with your loved ones during your holiday trip without worrying about roaming expenses.
Should I activate my eSIM as soon as I buy it?
In our experience, you should wait to activate your eSIM profile until you've reached the country where it provides service. This way, you'll avoid any possible issues with your activation process. You can keep it ready as soon as you buy it, but with the QR code in hand, you can turn it on as soon as you step on your destination country, even from the airport runway.
Can I get an eSIM from a Slovenian carrier?
Currently, Slovenian mobile carriers offer eSIMs to its customers with their traditional SIM rates. However, they require an identification and all the hassle involved in getting a plan and a contract with the network operator. With travel eSIMs, you'll have features specifically designed for your holidays and the added convenience of being able to purchase it online and within a few minutes.
Can I use a prepaid eSIM together with my home carrier's SIM card?
Yes, you can. In fact, it is one of the great features of eSIMs for travelers. With an eSIM, you'll be able to keep your SIM card active while at the same time you use an eSIM to provide you with data. You won't need to switch phone numbers, so you'll keep your WhatsApp profile (or any of your social media) while not using your home carrier to roam. Just remember to switch which profile provides data for your phone.
Are there any downsides to using an eSIM?
Added to the inconvenience of not being able to use an eSIM on every device available in the market, if you need to change the mobile phone on which an eSIM has been installed, unlike SIM cards, you'll need to contact the eSIM carrier. It usually won't take too long (as soon as your new device also supports eSIMs), and you'll be able to keep using your eSIM plan on the new device.